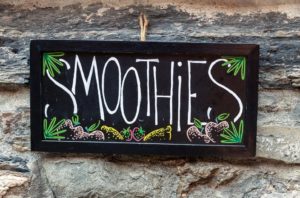 Looking for a healthy summertime snack that is sure to please your child who is wearing braces? We recommend smoothies! Packed with healthy fruits (and even vegetables) a smoothie is a tasty cool treat, can feel good when teeth are sore, and is sure to make everyone happy.
We are happy to share a Barden family favorite smoothie recipe.
Peanut Butter Banana Smoothie
1 banana
1 cup milk
½ cup vanilla or plain yogurt
2 tablespoons peanut butter (try sunflower seed butter if allergic to peanuts!)
1 cup of ice cubes
Directions: Add all ingredients to a blender and blend until smooth. Enjoy!
When making smoothies you can get creative with fruits and find the combination that you like the best!
Share your favorite smoothie recipe with everyone on our Facebook page!