August 6th, 2021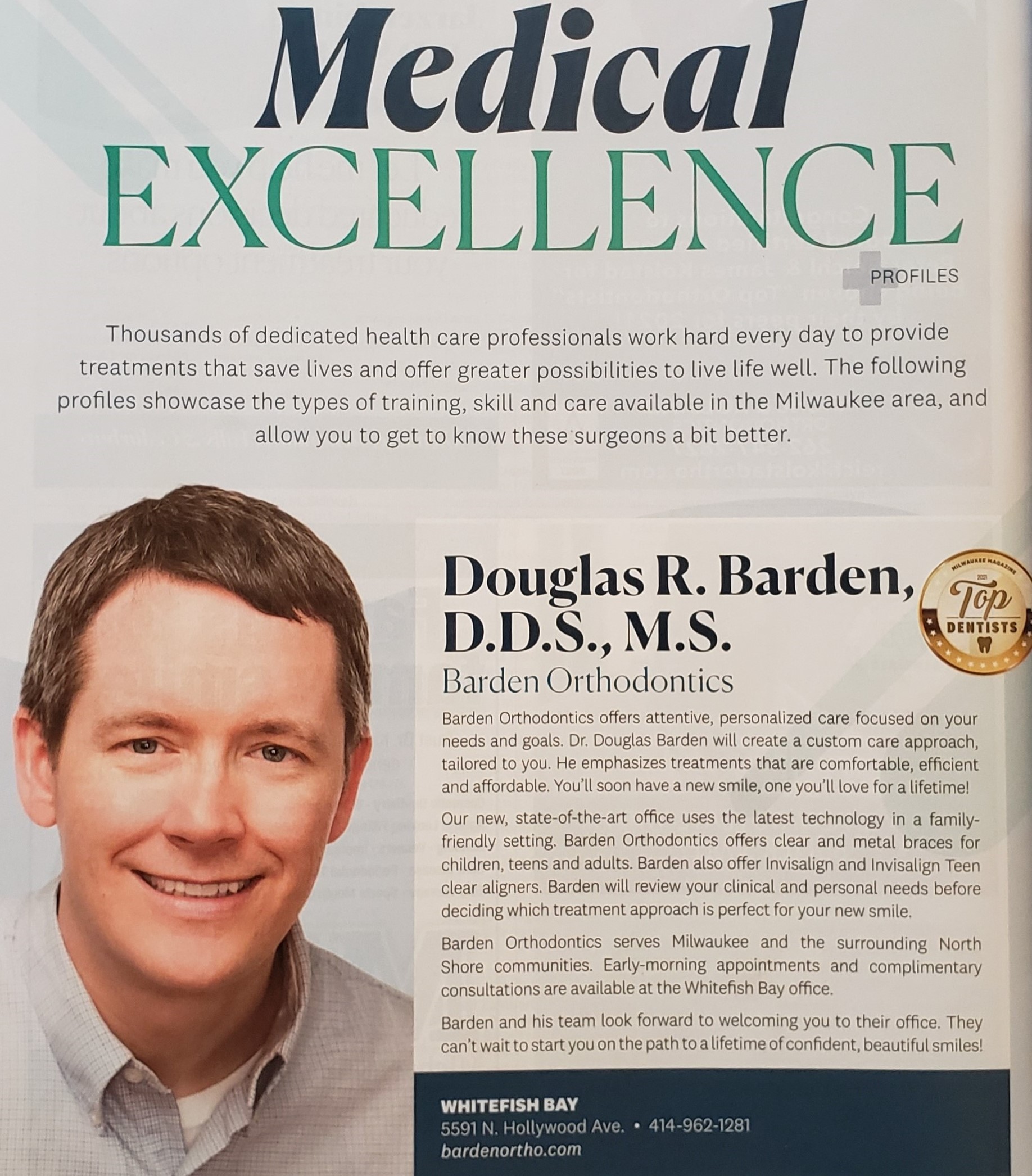 We are proud to announce that Dr. Douglas Barden has once again been listed as a TOP Dentist in the field of Orthodontics by Milwaukee Magazine. This award is based on reviews from other dentists and recognizes his expertise in orthodontics.
Dr. Barden takes pride in providing his patients with the best orthodontic treatment possible.
Dr. Barden is involved with professional orthodontic associations. He is a member of the American Association of Orthodontists, the premier orthodontic association that requires the highest credentials and education for membership.
Dr. Barden has served as President and board member of the Wisconsin Society of Orthodontists.
Dr. Barden frequently attends conferences and continuing education lectures so that he has the most effective treatment options for his patients.
Barden Orthodontics' new, state-of-the-art office was designed to be comfortable, safe, and welcoming for the entire family.
We treat everyone like family. Patients are always greeted with a friendly smile and have an individualized treatment plan. Barden Orthodontics provides a stress-free and positive experience for patients of all ages. A favorite feature of our office is the game room featuring Pacman, Star Wars and other classic video games!
Barden Orthodontics utilizes the newest technology to ensure the most effective treatment.
We understand everyone is concerned about infection control at this time. At Barden Orthodontics we have always carefully followed all CDC and OSHA guidelines. We have strict adherence to sterilization and sanitation procedures and use of personal protective equipment.
Dr. Barden is fully vaccinated against COVID-19. We have also developed a new set of COVID-specific protocols for our office to ensure the health and safety of patients and staff.
Barden Orthodontics has integrated multistage air filters that utilize UV lights to produce surgically clean air throughout the office.
All treatment chairs are physically separated by walls, unlike most orthodontic offices that have an open treatment area. Each treatment room has a dedicated air filter.
We are proud that Dr. Barden has been acknowledged again by the Milwaukee Magazine selection of Top Dentists in the field of Orthodontics.  Follow us on Instagram, Facebook, or Twitter to stay up-to-date on what's happening in the office.