December 6th, 2019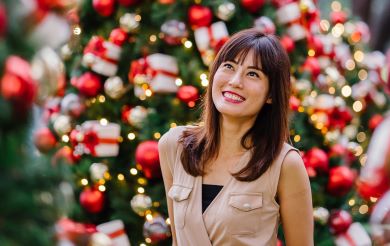 Let this be the holiday season that you get the smile you have always wanted!
Are you considering braces or clear aligners (such as Invisalign®) to improve your smile? Are you worried that your current lifestyle might not work with braces? Put your fears to rest! Dr. Douglas Barden will work with you to review your dental treatment goals, talk with you about your lifestyle, and outline a treatment plan that gives you a beautiful smile.
You will be happy to learn that braces will likely work with your current lifestyle. While wearing braces or clear aligners you can still do all your favorite activities -- whether it's playing sports, playing instruments, singing, or speaking in public.
Today's braces are much smaller than they used to be. The days of "metal mouth" are long gone! Metal brackets are much smaller, and many adults and teens prefer braces made of ceramic or plastic, which are barely noticeable. Clear aligners, such as Invisalign®, are also popular with our adult and teen patients because of the low visibility and ease of treatment.
What can't you do with braces? Chewing on ice and hard, sticky food will damage your brackets. You might also have tender teeth after adjustments. But these are minor inconveniences in order to have a healthy, beautiful smile!
If you choose to have treatment with clear aligners, most people won't even notice that you are wearing them. You can still eat all of your favorite foods because you remove the aligners while you eat.
A consultation with Dr. Douglas Barden at his Whitefish Bay, WI office will help you determine how you can benefit from orthodontic treatment and which method (braces, clear aligners etc) will work best for your lifestyle. Consultations with Dr. Barden are always free, and he is happy to answer all of your questions about orthodontic treatment. We can also coordinate with your dental insurance and develop a payment plan that works for your budget.
We look forward to welcoming you to our Whitefish Bay office and starting you on the path to the new smile of your dreams! Happy Holidays!