August 11th, 2023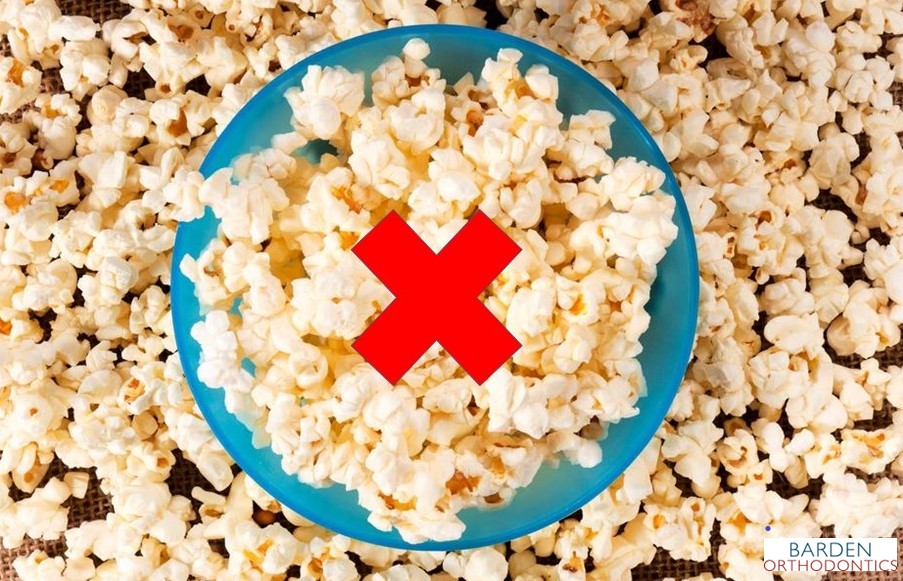 Congratulations on starting braces and orthodontic treatment! This is a big step, and we know patients often have many questions on how to take care of their braces.
During orthodontic treatment it is important that you select your food carefully. Hard foods can break brackets and bend wires resulting in additional appointments and delayed treatment times. Sticky foods can also damage orthodontic appliances. Sticky food can also be hard to clean off of appliances and teeth, resulting in food stuck on your teeth causing tooth decay.
Some foods to avoid and braces friendly alternatives:
Popcorn is a patient favorite, and many kids are sad when we warn them about eating popcorn with braces. The problem with popcorn is that the seeds can break brackets, bend wires and kernels get stuck in brackets, between teeth and gums. Try eating softer puffed rice or corn snacks. They are still salty and satisfying!
Nuts are in many baked goods and can be eliminated from the recipe or replaced with raisins. Try nut butter spread on a cracker for snack time if you miss the taste of nuts.
Carrots are a healthy snack but can cause damage to appliances. Cook carrots until they are soft or cut into small pieces.
Apples should be cut into small pieces, baked, or eat sugar free applesauce.
Caramel and other sticky candy such as taffy are dangerous to braces. Try caramel flavored ice cream.
Corn-on-the cob is a fun summertime food but can break brackets and wires. While in braces cut the kernels off the cob!
Check out these fun brace friendly recipes for dinner, dessert, and snack ideas! We know that skipping some of your favorite foods is hard, but the healthy, beautiful smile will be worth the effort!
Follow us on Facebook or Twitter for more orthodontic tips and helpful information.